Discount Code

Extra 25% Off Sale lines at Protein Works

Hurry. Only valid for a limited time.

3 uses

Offer

Summer Crash Sale - Up to 83% Off selected products at Protein Works

Hurry. Only valid for a limited time.

2 uses

Discount Code

Extra 30% Off Plant-based Protein Supplements at Protein Works

Only valid for a limited time.

5 uses

Offer

Up to 80% Off Sale on selected Sports Nutrition Products at Protein Works

8 uses

Offer

Collect TPW Points and Save up to £100 Off your next order at Protein Works

Available for a limited time.

7 uses

Offer

TPW Gift Vouchers are available online from £5 at Protein Works

Valid for a limited time.

9 uses

Offer

Protein Shakes from only £7.99 at Protein Works

Limited time offer.

6 uses

Offer

Up to 50% Off Protein Snacks - Only £1.49 at Protein Works

Hurry. Only valid for a limited time.

7 uses

Offer

Free Delivery on all orders over £60 at Protein Works

Only valid for a limited time.

9 uses

Offer

TPW 35% Student Discount at Protein Works

Only valid for a limited time.

8 uses
Protein Works Shopping Guide
When you start looking for a premium sports nutrition supplement brand then you couldn't miss the opportunity to try The Protein Works (TPW).
Started in 2012 but in the recent years they become one of the largest UK supplement brand. With hundreds of great products they can easily suit your needs in sport nutrition, no matter what you are looking for.
Their products range includes several high quality products which are far better than some other big brand's ones. Over the past few year they presented us many great innovations: protein popcorns, delicious protein snacks and many protein based products that everybody likes.
My favourite TPW product is their Protein Brownie, especially in the Millionaires Shortcake Bread flavour. It's simply amazing. I can't stop eating it. The chocolate flavoured is also good. They have a range of Diet Protein Truffles which is like some kind of chocolates. These little truffles are hand made in the TPW Protein Bakery like the other snacks. These are my other must have products, I always order some. The Jaffy Cake flavoured ones are the best.
The Protein Mug Cake mix is simply amazing. When I first tried it I haven't known what to expect from it, but I was surprised. It's taste like a regular mug cake, but with a quite high protein content. Do you usually buy Coconut Oil? They sell the highest quality coconut oil I ever tried. It's like a pure coconut sliced in two halves.
Protein Nutties are good too. I tried the almond super berry flavoured and it's a pleasure to eat them. It's simply good to chew them. The Protein bars are good, but not outstandingly. The Protein Bites are the smaller, severally wrapped version of it. Have I said that the packaging is also good? The plastic holder that contains the Protein Brownies and other goods is very high quality. So high, that I usually keep them as a storage in the kitchen. Great for rice, flour, etc.
TPW also has a nuts range with some exotic nuts and fruits like Goji Berry, which you must taste once in your life. But don't always talk about snacks. The Whey Protein range is so high quality that the protein powders easily can be compared to the top brands. This is a must have for a supplement company who want remarkable position in the supplement market nowdays. My favourite is the Chocolate flavour Whey Protein 80. For a while it's available in an SF+ version which has sunflower lecithin instead of soy lecithin. It's mixes well with no lumps and the taste is fine. I often mix it with Instant oats and with water. I stopped using milk for shakes years ago because I don't need it as well as you. Why do you want to add lactose and fat to your pure protein shake? Also it doesn't taste bad with water, so you don't need milk for it.
I also ordered some flavoured Instant Oats from them. Along with the unflavoured I recently tried the Chocolate and Vanilla flavoured oats which is very good and tasty. I mix it with natural yogurt to get a flavoured healthy yoghurt.
The Vitamins & Minerals range includes all sort of products you can expect from a top supplement brand. The package of pills is interesting. It's not round shaped. It's a flat, wide pot with an easily openable cap.
Recently The Protein Work introduced their two brand new Home Bake kits. The Raw-Caramel Slice and Choc Fudge Brownie Home-Bake kits. These kits are designed to customers who want to make their own treats at home but don't want to buy a lot of ingredients to mix them home for hours. Instead you buy these kits and you just have to do a few steps to make a Caramel Sliceor a Choc Fudge Brownie at home. These are not just taste like it's made at a sugar shop, they also have a high protein content from hemp protein, coconut oil and other organic ingredients.
Another great range at TPW is the nut butters range. They have the well known peanut butter (smooth and crunchy), but they have an advanced version of peanut butte which is flavoured. There is one with white chocolate flavour which has a quite unique taste and also other flavoured variants. TPW has it's own chocolate spread with hazelnuts and protein. You can't notice that it's a supplement with high protein and low fat and sugar content. It's absolutely fantastic.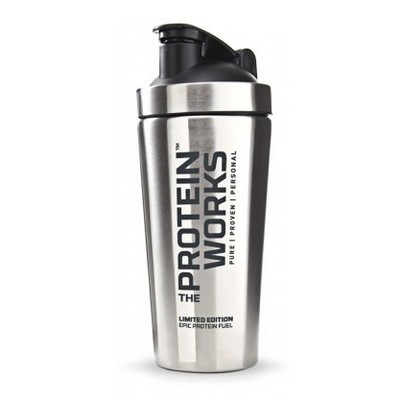 What I miss from The Protein Works is a bigger clothing line. Other brands have trainers, hoodies, T-shirts, Towels, etc. TPW only has some T-Shirts and hats. But they have some great looking stainless steel shakers that they introduced recently. It looks awesome. Along with that they have a regular shaker and a special gold edition.
The delivery is fast and reliable. You get your order in time, even is you choose delivery to a foreign country. The package is good, I haven't ever experienced any problems with them.
TPW often has big saving offers. When they introduced the stainless steel shaker there was an offer for that. All customers who bought that shaker also got 28% OFF their order without any discount codes. They only had to add it to their basket.
How to use The Protein Works Discount Code
First you need to be logged in to your TPW account. Sign in or register.
Complete your shopping.
Go to your basket by clicking on the shopping trolley icon at the top right of the screen.
Check if you have the correct items in your basket.
Enter discount codes into the field shown on the screen.
Click on the "Apply Points" button.
Go to the "Proceed to checkout" screen.
Enter your billing information, select a shipping method and a payment option and then complete your order.
FAQ
How can I use a Protein Works Discount Code?
After you've done the rest of your shopping, you need to go to your basket or the checkout page. Try to find the voucher code box, or it can be called something similar. Enter or paste the code into this box, then click on the activation button to make it work. After that, you can pay for your order and finish shopping. After you have completed your order, you should get a confirmation e-mail from Protein Works.
TL;DR
Add everything to your basket.
Be sure to add the products too that are necessary for an offer.
There is a box on the checkout page on www.theproteinworks.com, as shown in figure 1.
Enter a Protein Works Discount Code into that box and activate it with the "Use code/Activate code/Apply code" button.
For example:
Enter discount code "EX25" during the checkout process when prompted, and you'll get the related "Extra 25% Off Sale lines at Protein Works" voucher activated on your order.
What kind of discount codes can I find for Protein Works on Vouchers4U.com?
We usually have several kinds of discounts for Protein Works:
New customers can save 5-10% Off their first order.
You can save a certain percentage of the total amount of your order.
You can save a certain amount of the total amount.
Coupons that you can only use once.
Flash Sale offers that usually last for 24 hours.
Free gift when you buy a certain product or spend over a certain amount.
Free delivery on your order.
Most coupons and promo codes have an expiration date. If there is none, then they can be used indefinitely. of time or it has not been determined in advance how long they are valid.
We at Vouchers4U.com always try to update and display the latest codes and offers. Bookmark us, and every time you order from Protein Works or any other store, visit us to grab a great deal which helps to save some money.
Where do you get these codes?
We get all the discount codes and offers from Protein Works. We can inform you about the latest products and deals from Protein Works. With the discount codes, you can save more, buy more things for your money or get goods cheaper than the regular price.
What if a code is not working or expired?
We check all offers and codes daily and remove the expired ones right after the expiration. Also, there are cases when Protein Works did something wrong, and the deals are not yet live or expired before the previously mentioned expiration date. In this case, you can contact Protein Works customer support. The staff will happily look into this for you. You can access them on their website, or you can contact them on one of their social media pages. They will get back to you in minutes.
How much does the shipping/delivery cost?
You can find all information on the Protein Works website. Scroll down to the bottom of the page and search for a link like Delivery information or Shipping cost.
Where can I find deals for the Protein Works Black Friday Sale?
We refresh our set of Protein Works Black Friday Deals every year with new ones. Therefore the latest deals will be published 1-2 weeks before the Black Friday Event.
We do the same for the Annual / Seasonal Sales. Protein Works has exclusive deals for these sales each year, so we stock up on all the latest deals just before or at the moment of the sale.
Protein Works's Return Policy
Generally, most stores offer a 30-day return policy. You better verify the exact length of the return and refund period when you shop at Protein Works.
Reward Scheme
Check out whether Protein Works has a reward scheme. The more money you spend at Protein Works, the more reward points you can collect and redeem on your next order.
Referrals
Check out if Protein Works has a referral program. Then you can refer Protein Works to your friends with your referral code, and when they register, you will receive a certain amount of points which you can use on your next order. Your friends will also get some savings on their first order.
How can I track my order?
After Protein Works has dispatched your package, they will send you an e-mail about the dispatch. In this e-mail, you will find all the information about the delivery of your order. In the e-mail, there will be a link or a tracking number that you can use on the courier's tracking page to see when to expect the delivery.
Last updated on 9 June 2023
Popular Protein Works Discount Codes in June 2023
| Added | Description | Code | Uses |
| --- | --- | --- | --- |
| 25 September 2022 | Extra 25% Off Sale lines at Protein Works | EX25 | 3 |
| 24 May 2022 | Summer Crash Sale - Up to 83% Off selected products at Protein Works | ******* | 2 |
| 24 May 2022 | Extra 30% Off Plant-based Protein Supplements at Protein Works | PLANT | 5 |
| 18 March 2021 | Up to 80% Off Sale on selected Sports Nutrition Products at Protein Works | ******* | 8 |
| 16 March 2021 | Collect TPW Points and Save up to £100 Off your next order at Protein Works | ******* | 7 |
| 14 March 2021 | TPW Gift Vouchers are available online from £5 at Protein Works | ******* | 9 |
| 13 March 2021 | Protein Shakes from only £7.99 at Protein Works | ******* | 6 |
| 13 March 2021 | Up to 50% Off Protein Snacks - Only £1.49 at Protein Works | ******* | 7 |
| 10 March 2021 | Free Delivery on all orders over £60 at Protein Works | ******* | 9 |
| 01 January 2019 | TPW 35% Student Discount at Protein Works | ******* | 8 |
Expired Voucher Codes & Offers
Discount Code

33% Off Your Order When You Buy a Steel Shaker at Protein Works

Discount Code

Save 30% Off when you buy 3 or more different products at Protein Works

Discount Code

Save 25% Off when you buy 2 or more different products at Protein Works

Offer

Save up to 70% Off in the TPW Sale at Protein Works
Browse offers for other stores